HYPNOSIS TRAINING – PRACTITIONER
HYPNOSIS PRACTITIONER CERTIFICATION
Become a certified hypnotist in just 4 days with our Hypnosis Practitioner Training.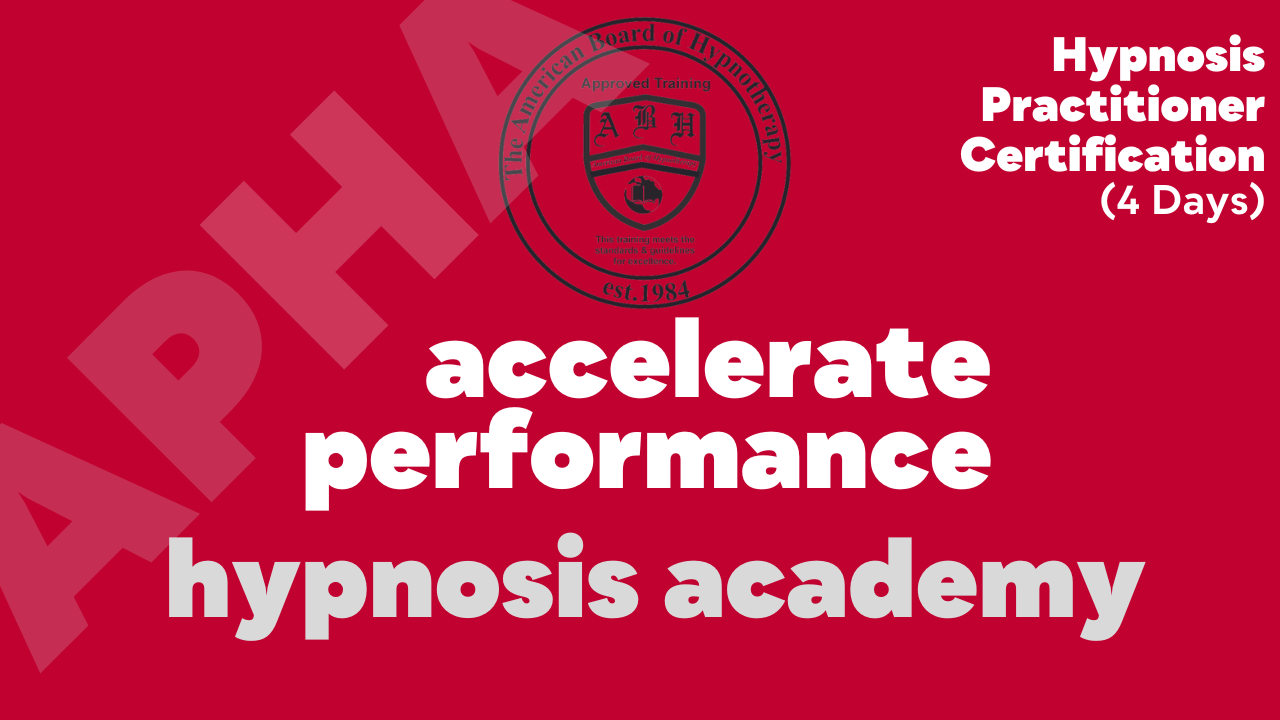 If you want the best Hypnosis Training, then Accelerate Performance delivers. With the Best of Both Worlds combination of online and in-person learning, you'll spend just 4 days in total to become a Certified ABH Practitioner of Hypnosis. Whether you want to learn about Hypnosis for interests' sake or you want to add it to your current therapeutic practice, this Hypnosis Practitioner Course turns you into a fantastic practitioner of Hypnosis.
OVERVIEW OF HYPNOSIS PRACTITIONER COURSE
The fun starts right after you book the Hypnosis Practitioner Training course. You'll be given access to our Learning Platform so you can start on your journey to becoming a brilliant Hypnotist right away. In the Learning Platform, you'll access 4 modules that comprise video lessons to make the whole learning experience as real as it will be in person. These video lessons are taught by Ralph Varcoe, your Hypnosis Trainer. Then you'll participate in a hands-on experiential in-person course that turns you into a brilliant practitioner.
STAGE 1: ONLINE PRE-COURSE STUDY
Prior to the in-person, highly practical course, you'll complete an innovative and expertly guided online pre-course. The pre-course consists of video and audio lessons across 4 modules, each with a test, which you must pass at the end of each module before you can proceed to the live in-person classes.
The tests are open book and a combination of multiple choice and multiple selection questions. If you've gone through every video and taken notes, then you'll pass these tests with little challenge.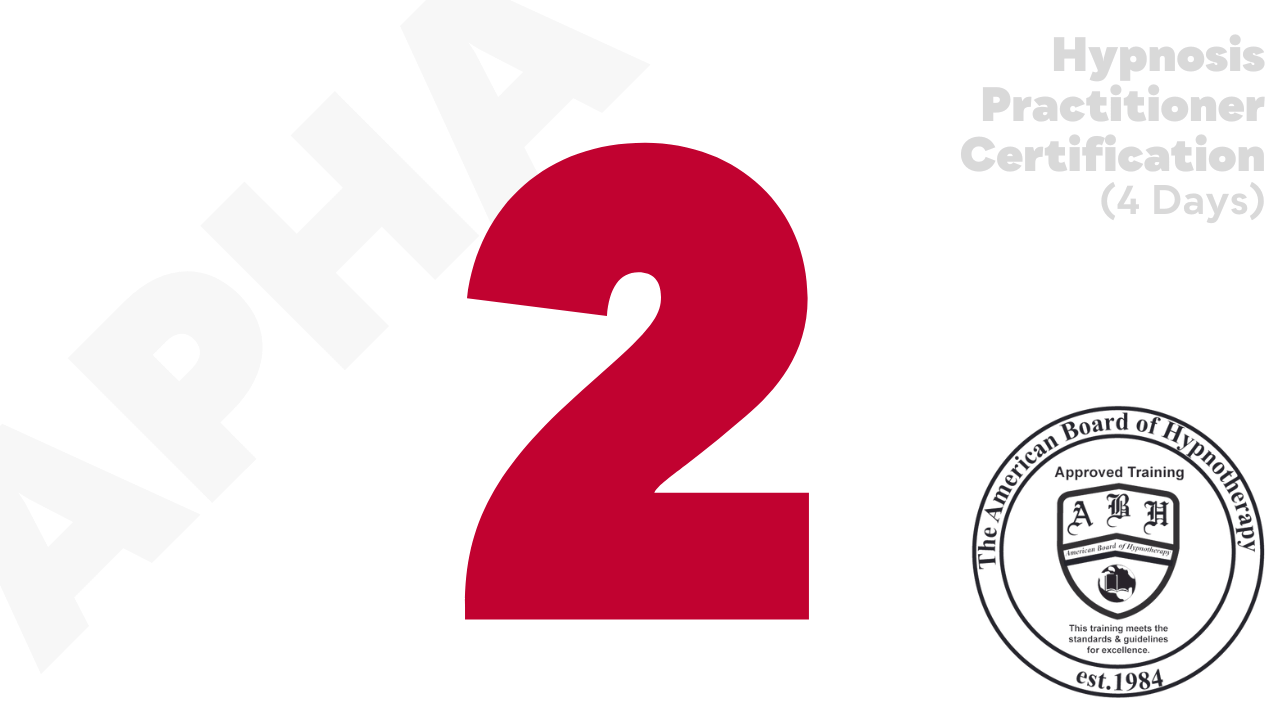 STAGE 2: 2-DAY LIVE HYPNOSIS TRAINING
Your in-person, hands-on, highly practical and experiential 4-day training takes place over 2 weekends at locations detailed in the Course Dates section.
The Course days typically start at 09:30 and run until 17:00 with a couple of short tea breaks in the morning and afternoon and a longer break for lunch.
All classes and demonstrations are delivered by ABH Hypnosis Trainer , Ralph Varcoe.
Prepare for fun, information, practice and deep, deep trances.
STAGE 3: ASSESSMENT & CERTIFICATION
Throughout the course you will be guided and coached so that you pass the assessment with flying colours. Once this has been done, you'll be presented with your Hypnosis Practitioner Certificate, accredited by the American Board of Hypnotherapy (ABH).
Once you are an official Practitioner you can progress to the Master Practitioner course to further you skills and understanding of the power of Hypnosis.
TELL ME MORE ABOUT THE QUALIFICATION
You get a certificate from Accelerate Performance that's accredited by the American Board of Hypnotherapy (ABH). The ABH was founded in 1982 by Dr. Krasner as The California Board of Hypnotherapy but it quickly grew to become the American Board. It is one of, if not the largest board, with over 1,000 accredited training centres around the world. There are over 50 certified trainers in the UK alone.
Once you have your certificate from Accelerate Performance, you'll be able to join ABH as one of its registered practitioners.
WHY TRAIN WITH ACCELERATE PERFORMANCE?
With 50+ Hypnotherapy Trainers in the UK accredited by ABH and other accrediting bodies as well, why is Accelerate Performance's training the one to go for?
Most people look at location, price and convenient dates first and then focus on how the website makes them feel about the course. We say you should trust your unconscious to make the decision for you. We believe you'll book this course because the content is first-class, delivered with the best of both worlds – online and face-to-face – by Ralph Varcoe, your experienced and skilled trainer, who has spent years leading and training teams from around the world using the best mix of learning styles, theoretical concepts, practical techniques, and great fun so that you finish the course with your certificate, great skills embedded in your unconscious and a smile on your face.
And, if you want to talk to Ralph before booking the course, just call 020 8080 2090. It's important you feel the course will be right for you. If you don't get through first time, leave a message.
WHY IS THE COURSE FACE-TO-FACE?
Hypnosis is something you need to do, in practice, with other people. It's particularly important to be with people, practicing on each other when you're just starting out because there's a skill in calibrating your client as well as seeing and sensing how deep they've gone into trance.
We'll be demonstrating techniques live and then you'll be having a go, mastering those same techniques so that when you leave with your certificate you don't just know about hypnosis, but you know how to do hypnosis. We always talk about making our students into hypnotists – that state of being where you aren't just doing hypnosis, you are being one – a great one.
Of course, you'll get the best of both worlds with our training, as the pre-course study is undertaken online…all those topics to learn which can be learned in the comfort of your own home so that when you attend in-person, you get on with doing hypnosis and becoming a great hypnotist.
4-DAYS SEEMS SHORT - CAN I REALLY BECOME A HYPNOTIST IN 4-DAYS?
Don't let anyone tell you that hypnosis is hard. Sure, it requires effort and attention to learn how to be a practitioner, but it's not hard to do hypnosis. Everyone can and does go into trance, often. Hypnosis is the deliberate act of putting someone into a trance in order to tap into their unconscious. We'll show you how to get your clients into and out of trance so you can do it like a pro. We'll teach you lots of different inductions, deepeners, and all sorts of other amazing things – all in just 4 days.
In reality, the training is, in fact, a bit longer than 4 days – because the pre-course online study takes place at home before we start the practical. You'll get all the theory covered online so that all 4 days of the face-to-face course are practical. You'll spend just 4 days becoming a great hypnotist. It may seem hard to believe, but it really is 4 days.
WHAT DOES THE COURSE COVER?
This course consists of 44 hours of study:
Pre-study via our online learning platform comprising 20 hours of self-study
4 online tests must be passed in order to progress to the in-person training (as many re-takes as you need are permitted)
4-days of practical in-person teaching comprising 24 hours of study
A post-course assessment must be passed to be awarded the certificate
THE COURSE CONTENT COVERS:
The NLP Model of Communication
The Mind-Body Connection
Cause & Effect – Responsibility
Perception is Projection
Prime Directives of the Unconscious Mind
What is Hypnosis?
History of Hypnosis
The Conscious, Unconscious, and the Critical Faculty
All learning behaviour and change is unconscious
Hypnotic Patterns
Preparing for a Trance
Stages of Hypnosis (including the depth scale)
Brainwave Frequencies
Suggestibility Tests
The Meta Model
The Milton Model
Ericksonian Inductions (x2)
Deepening Techniques
Fractionation
Suggestions and Post-Hypnotic Suggestions
Professional Conduct
Contraindications for the use of Hypnosis
Ecology – the number one golden rule
How to Conduct an Interview to Assess Someone's Needs
Scope of practice
Pendulum Work (Ideomotor Signals)
WHAT IS PROVIDED IN THE COST OF THE COURSE?
PRE-COURSE ONLINE TRAINING
Access to over 40 video lessons on our online learning platform
4 multiple-choice and multiselection tests on the online learning platform
PRE-COURSE MATERIAL
Books on Hypnosis to help you learn faster
Course Material Manual
Access to support via email or telephone to ensure you have what you need prior to the live classes
IN-PERSON LIVE TRAINING
Fantastic facilities at top hotels or conference locations
Slides and other handouts during the training to aid in learning and embedding the content
Induction scripts and protocols as handouts
Live demonstrations of all techniques and one-to-one guidance as you practice on others in the group
Group and individual feedback sessions to aid in learning
You'll be the hypnotic subject as well as the hypnotist, many times over, so you'll experience what it's like for your clients
Support and one-to-one support all the way through the course
CERTIFICATION
A signed certificate accredited by the ABH
Inclusion in our email list for monthly newsletters and other useful updates after the course has concluded so you can keep learning
All graduates are able to come to another course (of the same level) free of charge in the future (by arrangement to maintain class sizes to the optimum) so that you can refresh your skills
BOOK YOUR PRACTITIONER COURSE
PICK YOUR DATE AND LOCATION
HYPNOSIS PRACTITIONER COURSE
4-DAYS
LONDON (Dates to be confirmed)